As organizations continue to navigate their way through the COVID-19 crisis, leadership qualities across the business are being put well and truly under the spotlight. That's true in the global payroll department as much as any, with payroll leaders having to stand up and be counted to ensure employees around the world get their paychecks on time – in the face of significant change.
To be effective in the long term, global payroll leaders must show a set of skills and traits that go far beyond leadership instincts. The position of a global payroll leader is a highly demanding and multi-faceted one (as we explored in the role of today's global payroll leader) and requires an extremely broad skill-set to deliver continued success.
In this article, we'll identify seven fundamental qualities of an effective global payroll leader – equally useful to those already in position, those climbing the leadership ladder and those looking to fill a vacancy.
1. Payroll Process Experience
Naturally, a global payroll leader is expected to have experience in end-to-end payroll processing, ideally in as many countries as possible. But knowledge of other aspects of the entire business and related processes is also important in helping the payroll leader gain a 360 degree view of expectations their company may have of them. The ability to understand things from the perspective of the Board, your payroll team, payroll vendors and employees will be key to delivering solutions that work for the whole business.
Today, it's also expected that payroll leaders will have strong systems skills – which means an almost expert understanding of the most commonly used payroll platforms, and the HR & Finance systems with which they often integrate, such as Workday, Oracle HCM, SAP Successfacors, Ultimate Software, and more more.
2. Strong Technology Capability
In keeping with technical proficiency, global payroll leaders should also display acute awareness of the technological trends impacting payroll now and in the future. Understanding the potential of new technologies such as blockchain, RPA (robotic process automation) and machine learning, and more specifically the role they can play in improving the efficiency and effectiveness of payroll, is becoming increasingly essential as these technologies mature.
An appreciation of analytics and the value of payroll data is also vital, to ensure payroll is able to deliver on its full strategic potential. At the same time, an accomplished payroll leader will recognise the importance of the function in building the overall employee experience – looking to design and deliver payroll services in the most modern, dynamic way possible, such as through the delivery of self-service.
Other workplace technologies are important too. Tools that can turn a highly distributed team into a strong payroll community – such as collaboration platforms like Slack and Zoom – are particularly important right now, and will continue to play their part in the future.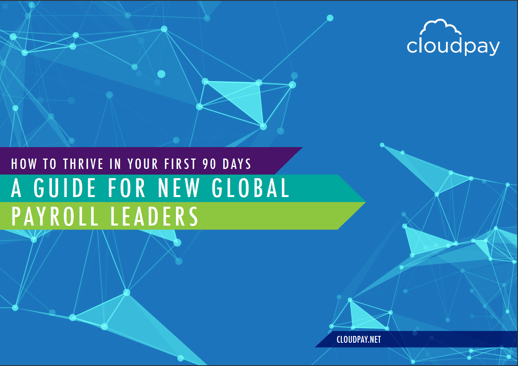 3. Commercial Acumen
While payroll-specific experience and expertise is invaluable for any payroll leader, a degree of general business acumen is every bit as important. A clear understanding of business economics (at least the basic principles like supply and demand) is essential if you are to play your part in supporting the organization's overall objectives.
Today's business functions are more connected than ever, and it's no longer enough to know your own function inside out. Collaboration and integration means the lines between departments are increasingly blurred, so you'll need an appreciation of all the different business functions, and how they operate and fit together. For this reason, experience of working in other functions can be a real asset – particularly if that's exposed you to advanced financial and accounting practices, and to the organization's enterprise resource planning (ERP) systems.
4. Compliance Orientation
The current rapid re-shaping of tax and benefit legislation across the world highlights the compliance challenge that faces payroll leaders on a regular basis. For a payroll leader to succeed in their role and satisfy internal (and external) compliance teams, they must therefore have an innate desire to keep pace with changing legislation – not just in terms of local and national labor laws, but also in respect of data privacy, reporting requirements and more.
Staying current across so many different areas requires a real appetite and commitment to constant learning – and this will be an intrinsic value held deep within a payroll professional who is at the top of their game.
5. Leadership Skills
As mentioned, there's more to being a payroll leader than leadership skills themselves – but they're doubtless critical for lasting success. So what exactly does good leadership look like? According to Victor Garcia, Senior Director of Global Payroll at Microsoft, in a recent interview, leadership is about "creating clarity on what we want to accomplish and how, through the team, to deliver success."
Strong leaders will recognise the need for balance, proving clarity of direction while creating room for people to show creativity and innovation. As Garcia says, "it's important to inspire optimism, creativity, and growth." The recent crisis has also shown us that today's leaders need to be flexible enough to manage a large, distributed team and be less reliant on traditional management methods – rather, they should be perhaps more focused on inspiring teams as a coach, mentor or motivator.
6. Relationship Management
As the old adage states, 'it's not what you know, but who you know'. In any leadership position, much depends on your ability to manage relationships and build connections, and that's particularly true in payroll, where a vast number of stakeholders need to be engaged on a regular basis. A strong payroll leader will be comfortable networking and communicating at all levels, whether it's with junior staff or boardroom executives.
The global payroll leader will also carry responsibility for establishing strong relationships with the payroll vendors with whom they work. For businesses following the local vendor model of global payroll, multiple contracts with individual local providers will be in place, all of which must be managed and optimized to strengthen the organization's capability.
7. A Global Outlook & Cultural Competency
Given the global nature of the role, 'intercultural competency' is our final essential quality. Just as leaders must be able to communicate with all stakeholders, the skills to work effectively with people of other cultures are every bit as vital.
Equally, an appreciation for the 'macro environment' of each region is key. As per the DESTEP model, the macro environment consists of six forces, which defines the context in which the business operates. A basic level of understanding of these six forces (Demographic, Economic, Political, Ecological, Socio-Cultural and Technological) across your territories can help you become a more effective leader to those you are responsible for in those regions.
When combined with emotional intelligence, this knowledge will help you understand the cultural differences that drive behaviour, enabling you to adapt accordingly. Intercultural competency will be a key quality needed to build a close global payroll community – as well as to show empathy to individuals one-to-one.
In Summary: Seven Skills to Spearhead Success
Payroll practitioners able to develop the above skills, traits and knowledge are well set for the demands of a global payroll leader – and can be a prized asset in the organization's pursuit of a superior employee experience. Even for the most talented leaders who possess most if not all of these seven qualities, if you are new in post you will only have a limited time to make an impact. So, if you want to get off to a strong start in your new global payroll leadership role, why not read our latest guide on how to thrive in your first 90 days as a global payroll leader.
This post first appeared on Cloudpay's website here. Cloudpay are an exhibitor on the HRTech247 Payroll, Time and Attendance floor. You can visit their HRTech247 exhibition stand here.