Introduction to the Employee Experience
Imagine what the employee's experience at work would be like if HR Services, and the technology that supports them, didn't exist. A picture of employees with a multitude of questions and requests going unanswered comes to mind: employees, in need of assistance for a variety of issues and concerns, feeling frustrated and annoyed. Throw-in antiquated workplace technology, and the employee's experience at work would be dire, with the likely outcomes of lower employee productivity, deteriorating morale among the workforce, and higher employee turnover.
Adopting Employee Experience Technology
Of course, this nightmare scenario is an extreme case and most companies, whether large or small, have an HR function that provides employee support services. However, not all HR Services operations are the same when it comes to the technology they use to support their employees. For example, depending on the size and how forward thinking the company is, the HR Services technology that is deployed ranges from a simple phone, email and shared inbox setup, to the latest SaaS-based HR Service Delivery technology, with applications and features such as:
All of these advanced technologies are designed around the needs of the employee, in order to create the best employee experience, but what exactly is the 'employee experience'?
What is the Employee Experience (EX)?
The Employee Experience, abbreviated as EX, is the idea that company performance can be improved by making improvements to the interactions between the employee and the company throughout the Employee Lifecycle (from recruitment, through onboarding to exit from the organization).
Today, the adoption of Employee Experience (EX) programs is considered essential by industry thought leaders and consultancies if organizations wish to remain competitive.
"We define [Employee Experience] EX as companies and their people working together to create personalized, authentic experiences that ignite passion and tap into purpose to strengthen individual, team, and company performance."

McKinsey & Company
History of Employee Experience (EX)
Employee Experience (EX) has its roots in Customer Experience (CX), which was first developed in the 1960s as a way of improving company performance, in terms of increased sales and customer loyalty, by improving the experiences that customers go through (during the Customer Journey) when interacting with the company's brand(s).
The logic behind EX is the same; by making improvements to employee interactions, or experiences, throughout the employee's journey, the company can improve company performance, but this time through increased productivity, greater employee engagement, higher retention and better team collaboration. The implication is that the employee is a 'consumer' of the workplace experience.
Advantages of Adopting an Employee Experience (EX) Approach
Proponents of Employee Experience (EX) reference research by leading thought leaders and consultancies that demonstrate how companies that invest in EX programs outperform those that don't. For example, in the World Economic Forum's 'HR4.0: Shaping People Strategies in the Fourth Industrial Revolution' (Dec 2019), research conducted across 120 organizations found that those with high-performing employee experience outperform the sector average Return on Assets by 2%, Return on Equity by 3%, and Gross Profit Margin by 12%. Over the mid-term, they outperform the sector average 3-year revenue growth by 4% and the 3-year change in Gross Profit Margin by 4%. In other words, high-performing employee experience is a predictor for financial success in the short and mid-term.
Jacob Morgan, best-selling Employee Experience author and keynote speaker, has carried out extensive research into employee engagement and employee experience, analyzing more than 250 diverse organizations, drawing on the Fortune 100 and various "best workplaces" lists. His article in the Harvard Business Review, Why the Millions We Spend on Employee Engagement Buy Us So Little, highlights several of his key findings, including:
organizations that invest in the employee experience had more than four times the average profit and more than two times the average revenue
and they outperformed the S&P 500, the NASDAQ, Fortune's 100 Best Companies to Work For, and Glassdoor's Best Places to Work, by considerable margins. Morgan says:
"Those [companies] that invested most heavily in employee experience were included 28 times as often among Fast Company's Most Innovative Companies, 11.5 times as often in Glassdoor's Best Places to Work, 2.1 times as often in Forbes's list of the World's Most Innovative Companies, 4.4 times as often in LinkedIn's list of North America's Most In-Demand Employers, and twice as often in the American Customer Satisfaction Index."
Senior management has bought into the idea too. In a recent pulse survey by Harvard Business Review Analytics, entitled Making Technology an Integral Part of Your Employee Experience Strategy, over 42% of executives say employee experience is important to their organization's commercial success, with 62% naming productivity as the outcome they most hope to see. Employee retention (51%) and increased collaboration (47%) are the second and third most selected, respectively.
How has COVID-19 Changed the Employee Experience?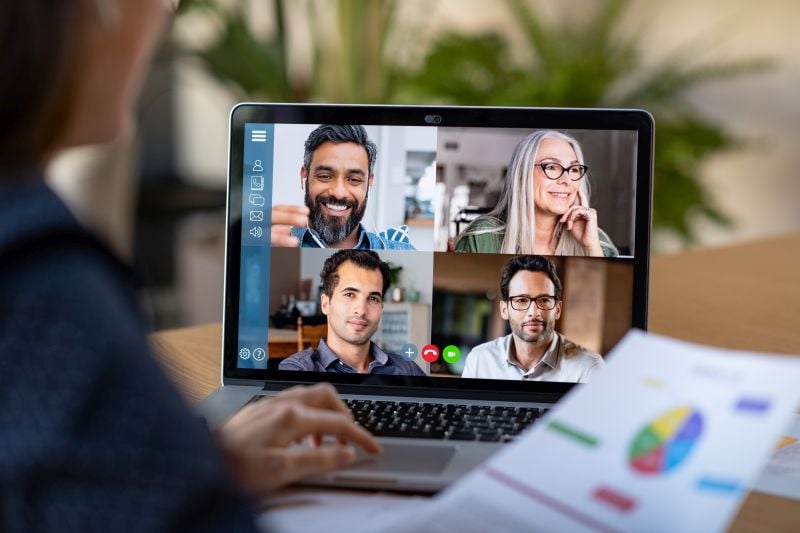 Probably the biggest change in the employee experience brought about by the COVID-19 pandemic has been the almost overnight shift to remote work for office/knowledge economy workers. In June 2020, 42% of the U.S. labor force were working from home full-time, the majority of whom were office workers. For these employees, the daily experience of work has changed significantly. It's estimated that commuters have gained an hour back on average in their day, and post pandemic, employees will work remotely one to three days per week. A hybrid model is likely to emerge that will balance productivity gains from working remotely with the benefits of social interactions from which creativity and innovation are generated by employees working in person with others.
Any experience that an employee has at work has also been affected by how COVID-19 has made employees 'feel'. If a worker is anxious about losing their job, this is likely to change his or her needs/requirements from the workplace experience. For example, in this case, perhaps the employee needs more regular and accurate communications from the company to allay fears. Seeing as the number of Americans applying for unemployment benefits has risen to 787,000 in the week ending January 2, 2021, there is strong evidence that the U.S. economy and job market remain under strain as coronavirus cases continue to surge and colder weather heightens risks. It is not just a problem in the U.S.. According to a recent CIPD survey on the impact of COVID-19 on UK workers, 39% think their financial security has worsened.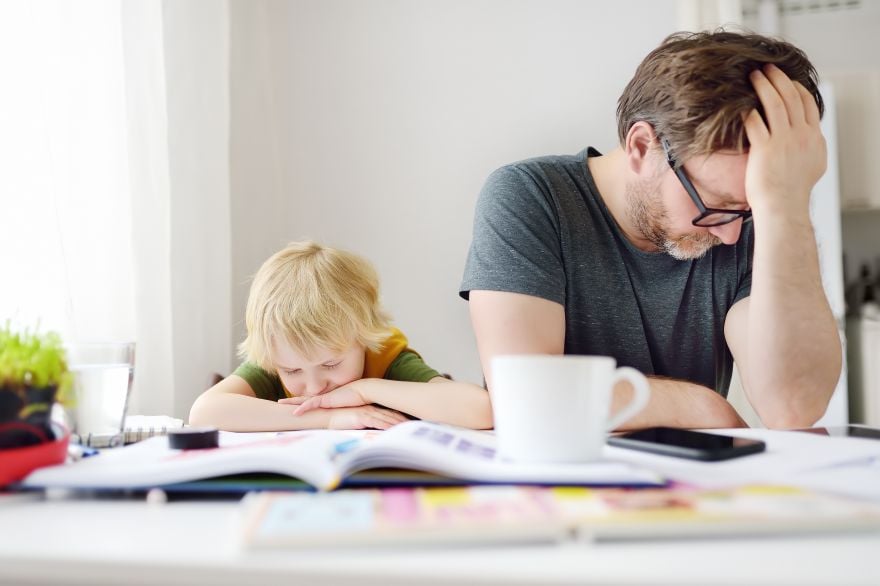 Furthermore, anxiety is leading to depression among large numbers of the workforce. According to a JAMA Network study, the number of adults experiencing depression has tripled in the US since the coronavirus outbreak began, with more than 1 in 4 adults reporting symptoms of depression. 47% are concerned about catching COVID-19 at work and 30% said their ability to work has been impacted by a change in caring responsibilities since the outbreak (CIPD Survey on impact of COVID-19 on UK workers).
What Can HR Services Technology Do to Help Improve the Employee Experience in a Post COVID-19 World?
Technology can provide the communications and self-service capabilities, as well as efficiency of response in employee-HR communications to ensure employees get answers to their questions quickly, helping to alleviate feelings of anxiety among the workforce.
For example, imagine you are a remote working employee, feeling lonely and anxious about your health and financial well-being and fearful about your job security, particularly as you have just seen the latest job market figures on the TV News. You feel your mental health, productivity and quality of work are suffering. You remember how different things were for you and your family pre COVID-19. However, you've always been a 'glass half full' type of person and so you decide to take positive action to try and put your mind at ease about your family's security. You reach out to HR for assistance, asking whether the company is providing any financial support programs. but when you call HR, the line is engaged. You send an email but no reply. There is no online communications portal for contacting HR, so you wait patiently (while you grow more anxious), until the following morning for a response. When you finally do get a resolution to your question, you feel the experience of interacting with HR has not met your expectations.
This is the scenario that many employees are facing today, and the problem is exacerbated if the employee's company has not invested in HR Services technology, that's designed to improve the employee's experience of interacting with HR Services teams.
Lori Sappington, VP HR Shared Services at First Midwest, explains how the effects of the COVID-19 pandemic resulted in employees contacting her HR Shared Services team with 'questions of fear':
"Employees were scared to come to work in case they caught the deadly coronavirus disease. The consequence was an influx of COVID-19 related questions into HR from employees fearful of what the coronavirus could mean for them, their families and their customers. These were 'questions of fear' such as 'my colleague sitting next to me is coughing, I'm scared and I don't want to come to work.'"
Fortunately, prior to the outbreak of the pandemic, Lori had already deployed Dovetail's HR Service Delivery applications, including the Employee Self-Service Communications Portal with Knowledge Base, HR Case Management and HR Reporting & Analytics, as well as the newly developed COVID-19 contact tracing and health screening technology (Dovetail Check Track Trace). In so doing, Lori had built resilience into First Midwest Bank's HR Services operations prior to the emergency caused by the pandemic. Because of this, Lori, her team and First Midwest Bank were well-positioned when the COVID-19 crisis struck. Dovetail's HR Services Delivery Applications enabled Lori to:
Empower employees to answer questions for themselves by using the Employee Communications Portal with self-service functionality
Rapidly communicate new COVID-19 information to employees
Track and monitor cases of COVID-19 among the workforce in order to limit the spread of the virus among the workforce (also adopting the use of Dovetail's Contact Tracing templates to aid in COVID-19 tracking)
Use metrics to measure the uptake of newly introduced employee financial support programs, so that First Midwest Bank could provide extra support to employees concerned about their financial well-being
Seamlessly take the entire HR Shared Services team remote without a glitch (a benefit of Dovetail's SaaS-based technology)
The result was that Lori's team was able to increase its productivity to meet the 20% increase in workload due to a surge in inbound employee questions, inquiries and requests. This ensured that the quality of service that employees received remained high, employees stayed engaged with HR communications and, as a result, employees felt less anxious about coming to work.
Lori and First Midwest Bank proved that by having HR Service Delivery technology that is designed to improve the employee experience (EX) in place prior to the COVID-19 outbreak, an organization can continue to provide high quality services to its employees, even during the worst pandemic in over 100 years.
Of course it's never too late to implement EX technologies that enhance the employee experience, while protecting business operations in an emergency. The coronavirus pandemic is coming in waves, and it makes sense to get ready during a trough, or rapidly implement a solution as the wave increases, or even during its peak. As long as a company that wishes to adopt EX technologies for HR selects a provider that is capable of implementing a solution quickly (Dovetail solutions can be implemented in as little as two weeks), it will be able to rapidly get up and running, and yield the benefits that such EX technology brings.
How to Design an Employee Experience That's Fit for a Post Covid-19 World
"Without question, the five-day-in-the-office week is dead,"

Michael Schrage, Research Fellow, MIT Sloan School of Management's Initiative on the Digital Economy
The global pandemic of 2020 has accelerated organizations' digital workplace transformations, and few will go back to the way things were before. That's according to a recent survey of 1,080 respondents drawn from the Harvard Business Review audience of readers. The huge and almost overnight shift to remote working is a trend unlikely to be entirely reversed.
Remote working is now one more element that employers must take into account when designing the employee experience for their employees. The use of design thinking is a useful technique for designing great employee experiences.
Design Thinking
To improve the employee experience in a post COVID-19 world, you need to look at your organization through the eyes of the employee, and use techniques such as design thinking as part of your Employee Experience (EX) program. In so doing, you can make improvements to every interaction between the employee and the organization, throughout the Employee Journey.
Using design thinking you will be able to empathize with your employees and design the workplace experience around them. Josh Bersin, an EX thought leader and leading industry analyst, suggests in his article The Employee Experience: It's Trickier (and more important) Than You Thought that one way to focus your EX efforts is to craft personas that exist in the organization or are anticipated in the future. You should try finding answers to questions such as:
What do employees value?
How could a differentiated experience drive engagement?
How could EX create affinity that impacts retention?
Or attract candidates to the company in the first place?
Below we take you through 4 steps you can follow to improve the employee experience.
1. Map the Employee Journey
Begin by mapping out employee interactions in an Employee Journey Map, in order to analyze and evaluate the employee's experience from start to finish. Determine 'moments that matter' and where improvements can be made.
Defining The Employee Journey
Recruitment – includes all the steps that lead to hiring a new employee
Onboarding – where a new hire gets up to speed with the systems, tools and processes and to grips with the role's expectations
Development – the ongoing stage in an employee's journey, with individuals developing at different rates and across a variety of skills
Retention – employees are now fully ramped up and integrated into the organization. The challenge now is to keep them performing, developing and contributing to the company's success
Exit – employees can leave for a whole host of reasons: they may retire, move to another employer or make a life change
Get the Moments That Matter Right
Once 'moments that matter' to your employees are identified, analyzed and assessed, iron out issues with onboarding, job changes, relocation and other time-consuming tasks that bog employees down.
You can also carry out research into what your employees need and want, by using focus groups, surveys, and manager input to gather information, and the insights you need to determine your EX goals.
2. Determine Your EX Goals
Based on your employee research, try to find answers to questions such as:
How do you want employees to feel about their experience at work?
What kind of cultural, physical and technological environment do you need?
Then start to define a list of EX goals. Each goal should enhance the Employee Journey by improving upon one of the three key work environments: cultural, physical (blended with virtual) and technological.
3. Get Your Organization's Cultural, Technological and Physical/Virtual Environments Right
Make company culture, technology and the physical/virtual workplaces the best they can be.
"If companies want to create a place where people want to show up, bring their best ideas, aspirations and hopes and dreams, then they need to make improvements to workplace culture, technology and physical space. By doing this, organizations will succeed in bringing into their business the best talent and brightest people and hold on to them. "

Jacob Morgan, best selling author of the Employee Experience Advantage

After interviewing the heads of HR, Innovation, IT, and Diversity from a range of sectors including tech, manufacturing, retail, professional services, education, startups, and others, Jacob Morgan demonstrated in his research that getting the cultural, technological and physical environments right is key to a successful EX program.
As an HR technology provider, we focus below on explaining the HR Services technology you will need to put in place in order to improve the overall technology environment for your employees. For more information on the Cultural and Physical environments, please see The Employee Experience Equation by Jacob Morgan.
Get the Technological Environment Right: Invest in the Best Employee Experience (EX) Technology for HR Services and Employees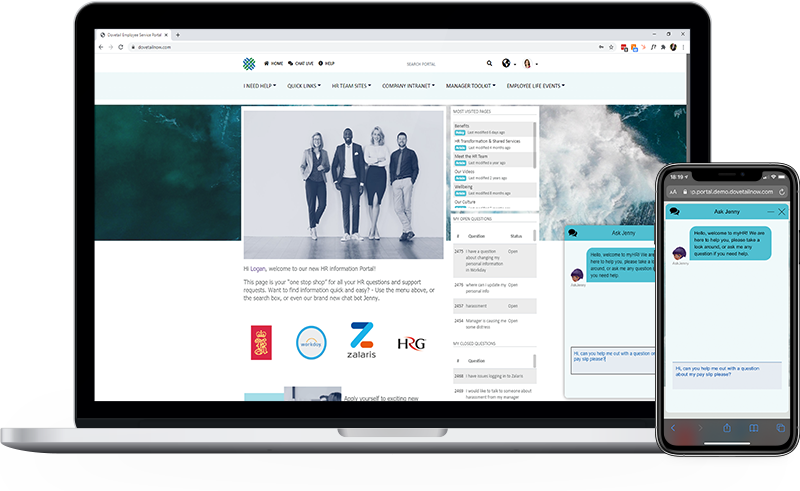 Look at new tools within the Employee Experience technology (EX) market that are built specifically to improve the employee's experience while they are at work. In the world of HR Services, you can assess and evaluate HR Service Delivery technology (referred to as HR Service Management technology by Gartner) such as Dovetail's HR Service Delivery applications, including Employee Portal with Knowledge Management and Live Chat/AI Chatbot technology, that provide employees with a consumer-like technology experience.
Provide Consumer-like Technology Experiences
"Our employees, particularly our younger employees love the Live Chat experience, accessible via the Employee Portal"

VP HR Shared Services, Dovetail Financial Services Customer
Today, employees expect consumer-like technology experiences at work. This is largely due to rapid advances in the user experience of consumer Apps such as Facebook, Google and Instagram. When a company's technology experience does not match that of these globally successful brands, employees can be left feeling frustrated, and their productivity can suffer. Would you want to use an outdated and clunky system at home? So why would your employees want to endure an old tech experience while they are at work?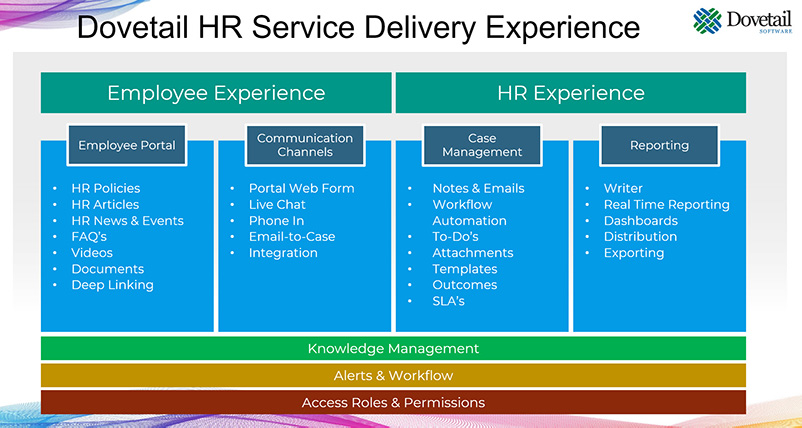 That's why today's modern HR Service Delivery applications are designed to meet the employee's expectations of a consumer-like technology experience while they are in the workplace. Applications and features, such as Employee Self-Service Portal, Live Chat and AI Chabots, and Knowledge Base, provide a better technology experience for your employees. For example, a key feature is the Employee Self-service portal, which helps employees find answers to their own questions without the need of HR assistance. Employees can also access timely and accurate communications, FAQs, Guides and links to useful content, as well as use search to find answers to their queries. On average, this can deflect up to 50% of employee inquiries, reducing total workload for HR Services teams by up to 20%.
"The Employee Portal deflection capability was the equivalent to the work capacity of 2 FTE HR Advisers (out of a team of 8 HR Advisers) during the first wave of the COVID-19 pandemic. Without it, I would have needed more personnel to cope with the demand on our HR Shared Services team, in order to maintain the same level of service and response times for our employees."

Shared Services Manager, Dovetail Enterprise Customer
By providing employees with the software tools they need to consistently receive fast response times from HR and efficient management of their questions, inquiries and requests, HR teams can materially improve the employee's perception and experience of the organization.
Ensure Your HR Services Technology is COVID-Ready

Also, consider deploying a Contact Tracing and Health Screening solution (that integrates with a Case Management system) to respond to the COVID-19 emergency. This will help protect your employees from the virus. Discover Dovetail Check Track Trace for more information.
4. Use Employee Experience Metrics to Measure EX Performance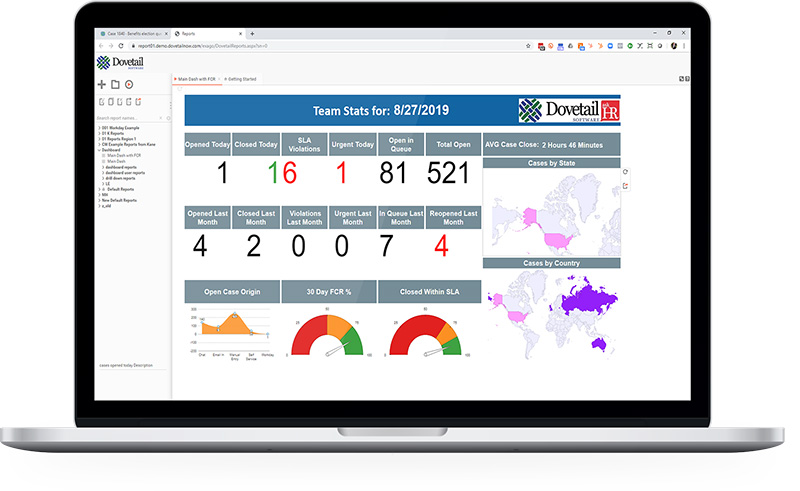 You can't manage what you can't measure. So finally get the right metrics in place, and you'll be able to generate the insights you need to continually improve the experience for your employees.
The multinational professional services company, Accenture, recommends that EX can be measured using a combination of traditional key performance indicators, such as workforce productivity, time to proficiency, retention, or employee net promoter score with new, key experience indicators (or KEIs), such as customer effort score, service provider NPS, collaboration analytics, and sentiment analysis through voice/chat/email interactions.
Conclusion
Employee Experience (EX) is the idea that company performance, in terms of improved productivity, higher employee retention and better team collaboration, can be achieved by improving the employee's experience in the workplace.
By using a design thinking approach to improve the cultural, physical and technological environments, an organization can make improvements to the interactions between employee and company throughout the Employee Lifecycle. Strong evidence suggests that companies that take this approach outperform those that don't.
The biggest changes in the employee experience have been caused by the COVID-19 pandemic, that struck the Western hemisphere in the first quarter of 2020. This resulted in an almost overnight shift to remote working, while severely affecting the mental state of large proportions of the workforce. Evidence shows employees feel more anxious about their financial and family security and, as a consequence, their mental health and productivity have suffered.
HR Services technology such as Dovetail's range of applications and technical features including Employee Portal, Live Chat & AI Chatbots and Knowledge Management, designed around the needs of the employee, can help organizations alleviate these issues, by empowering remote working employees to find answers for themselves quickly and efficiently, and by enhancing communications between employees and the business/HR.
In today's environment, any company that can support remote working employees with the right Employee Experience technology will be better able to help their employees get through the pandemic, and support them in their efforts to remain productive.
Click here to contact us if you would like to improve the experience of the workplace for your employees.
This post was written by Kelly Frisby, Marketing Director of Dovetail Software on their website here. They are an exhibitor on the HRTech247 Case Management and HR Service Delivery floors. You can visit their HRTech247 exhibition stand here.